Even though my favorite place is still home, we do love to travel.  As travelers, we seek out the uncommon, the out of the way, the unusual.  We love the mountains.  We prefer a B&B to a commercial hotel. We prefer food at low key local restaurants and rarely visit a chain. We love Latin America where we both speak the language and can interact with locals in a way most don't.
Claudia has begun working for the "international department" so it looks like our future will include at least one (and maybe more) international postings.  Right now and for the next 2-3 years, we are calling Polanco, Mexico City home and are traveling about the countryside here.  It's a beautiful place in many ways.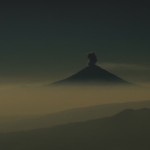 Here, Popo (Popocatepetl) erupts in an almost daily display of agitation.  We had just hiked to the top of Ajusco  – another volcano (extinct) that forms the southern border of the Mexico City metropolis – and were taking a quick break when this picture was taken.   Popo is very active and poses a constant threat to one of the largest cities in the world.  The filthy looking layer at bottom is a result of smog blown out of MC in front of a north wind.
Arizona Christmas 2013
2011 Trip to the California wine country
2010 Trip to Mendoza, Argentina
April 2012 Trip to El Valle de Anton, Panama
Top of La India Dormida
These are just a couple of examples and I've written tons of blogs on other travels.  So, if you are interested in traveling, check out some of the other places we've been on the home page blogs.  Safe travels!